BC Awning and Railing is pleased to offer their premiere patio cover design and installation services to residents in Coquitlam and the surrounding area.
With over 20 years of experience, our team of professional designers and installation experts are well-equipped to help you achieve the look and functionality you desire to help you maximize the time you can spend outdoors enjoying your Coquitlam yard. 
We work with many different materials of excellent quality. Whether your interest lies in aluminum, glass, or a combination of the two, BC Awning and Railing can design a patio cover that fits within the scope of your unique tastes to enhance both the beauty and the value of your Coquitlam home. 
With nearly 50 percent of Coquitlam's year sacrificed to heavy rainfall, many homeowners have felt doomed to spending a lot of time indoors. BC Awning and Railing's custom-designed and manufactured patio covers make it possible for you continue to enjoy time on your patio even when Mother Nature isn't interested in playing nicely. 
Why spend another day cooped up indoors when a phone call is all it takes to get you started on the path to enjoying a longer Coquitlam summer?
BC Awning and Railing is pleased to offer our Coquitlam clients the following services:
Client recommendations from previous Coquitlam clients

Efficiency of work processes

Hassle-free installation to prevent your inconvenience

Expert design professionals

Friendly installation experts

Top quality craftsmanship, installation, and materials guaranteed

Complimentary, no-obligation estimates. 

20 years of experience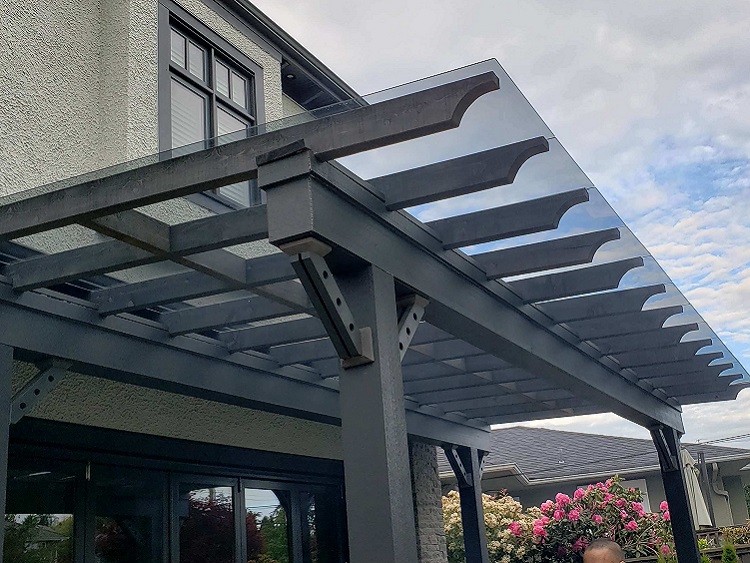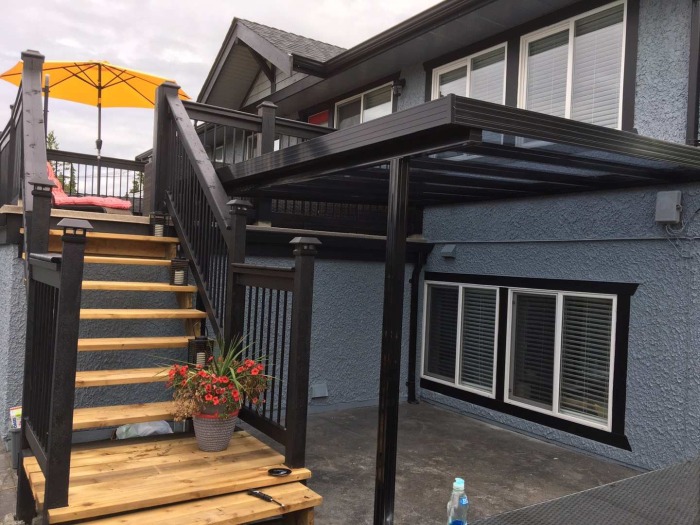 Why Patio Covers in Coquitlam?
A suburb of metropolitan Vancouver proper, Coquitlam is the sixth largest city in the province of British Columbia. Coquitlam is a region with its own unique cachet. It was once a popular playground for Hollywood's elite who flocked to the region in the 1930s and 1940s to enjoy the bountiful salmon fishing found there. The city is also home to the only Hard Rock Casino in Canada, an attraction that draws visitors from all across the country. 
Coquitlam is a great place to live, work, and play. With its mild weather year-round, opportunities for outdoor adventure abound. Unfortunately, Coquitlam's location in the heart of mountain country makes it the recipient of nearly 173 days of rain each year, an amount which significantly impacts the time that you can spend in your yard enjoying the beauty of nature. 
Thankfully, rain doesn't have to mean you are doomed to standing at your living room window watching the warm weather months slip away. A patio cover from BC Awning and Railing helps you to extend your time spent outside by providing a shelter to block excess heat and UV rays from the sun as well as rain, sleet, wind, and other unpleasant weather conditions that would normally drive you indoors.  
For the style, durability, and functionality you are looking for in a patio cover for your Coquitlam home, you can't beat the quality and workmanship found at BC Awning and Railing. Contact us now at 604-521-2688 or [email protected] to find out how one of our patio covers can help you enjoy more time in the great outdoors.
Like Our Work? Chat with us!
Please fill out the form and we will contact you within 24 hours to schedule an appointment.