Full Service Installation
Adding a glass cover above your patio is an attractive and efficient way to allow you to make the most of your time outdoors. Glass covers increase both the value and aesthetic appeal of your home. They permit you to enjoy the beauty of your yard with the comfort of being protected from the elements.
Glass covers absorb and reflect the sun's rays, allowing for moderate temperatures out on the patio even during the hottest days of summer. As an added bonus, there is no obstructed view with a glass cover, providing you with the luxury of enjoying the serenity of the blue sky by day and the stars by night.
Zero hassle and save time
Quality guarantee: 10-year product warranty, 3-year installation warranty
20 years of Experience

Many options: different material and color options

We service entire greater Vancouver area:
(Vancouver, West & North Vancouver, Burnaby, Richmond, New Westminster, Surrey, Whiterock, Delta, Coquitlam, Port Coquitlam, Langley, Maple Ridge, Port Moody etc.), Fraser Valley Area (Abbotsford , Chilliwack, Mission and Squamish etc . ), and ship to the Vancouver Islands.
FREE CONSULTATION & QUOTE
Please fill out this form and we will contact you within 24 hours to schedule an appointment.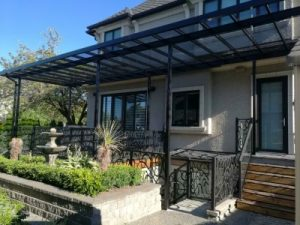 Enjoy natural sunlight in your covered yard! Our glass covers are beautifully constructed and are built with strength to last a long time.
Safety and highly durable 5mm safety glass to ensure your cover lasts under challenging weather conditions.
Specially designed hidden gutter system built into front or side panel that ties into existing drainage system.
Larger beams and post combinations for those larger covers.
Custom glass and frame to match your house outline and design available.
Free Online Cost Estimation Now
Answer our 1-minute questionaire and we can provide you with a cost estimation shortly.
Transform Your Space with a Beautiful, Long-lasting Patio Cover
Free Quote and Estimation
Give us a call or fill out the online form below to get a free quote. Our experts will show you options that fit your needs and budget.
One of our experts will visit your home or the site to fully assess the project.
You can also visit our showroom to see pick the actual patio cover material looks like.

Designed to Fit Your Needs
Based on your needs and our assessment of the project, we will provide you a design, budget and timeline that fits what you are looking for.

Our Professional Installers complete the job
Our team will go on-site and install the patio cover. We experienced team is fast, efficient and professional.

Our Portfolio of Happy Clients
We make sure the job is done on-time and of high quality. Below is a portfolio of some of the patio covers we did for other homeowners in Greater Vancouver.
Like Our Work? Chat with us!
Please fill out this form and we will contact you within 24 hours to schedule an appointment.
See what other customers say about us:

We had an awning constructed recently, and were impressed by the firm's attention to detail and the ability of their staff to communicate ideas. We were shown samples of the construction materials, were taken through the design choices, and on the day of construction the structure was complete within 4 hours.
James Garry
After getting three quotes from three companies they came up with the best design and price for me. Installation was done one week later on time and exceeding my expectations. Service was second to none and I highly recommend them. Thank you for giving such great service and products.
Richard Ryant
Azuro uses their products and services for a number of our outdoor projects. Can definitely recommend both!
Azuro Concepts
Have 2 awnings built & installed by these guys. Fast & efficient service & installation. Highly recommend.
Patricia Trotter
I called and had a call back within a few days. Great people that did fantastic work at a fair price.  Be patient, as english is not there forst language, but there semse of humor make up for any confusions. We are extremely happy with the work they did and the service we got!
Mark Peterse
Awesome quality and friendly service!
Tong Yue