Full Service Installation
Aluminum Cover With Skylights
Aluminum covers can be customized with skylights to provide a unique design feature to enhance the look and feel of any patio. Our aluminum covers with skylights are cost-efficient and guaranteed against any leaks. They provide the same insulation as our standard aluminum covers, ensuring protection from both the heat and the cold, allowing you to increase the amount of time you can spend enjoying the great outdoors.
Our skylights are available in several options including clear, tinted, frosted, or double glazed panes. We also offer two different materials: acrylic or tempered glass, allowing you to customize your cover's look and your cost.
Zero hassle and save time
Quality guarantee: 10-year product warranty, 3-year installation warranty
20 years of Experience

Many options: different material and color options

We service entire greater Vancouver area:
(Vancouver, West & North Vancouver, Burnaby, Richmond, New Westminster, Surrey, Whiterock, Delta, Coquitlam, Port Coquitlam, Langley, Maple Ridge, Port Moody etc.), Fraser Valley Area (Abbotsford , Chilliwack, Mission and Squamish etc . ), and ship to the Vancouver Islands.
FREE CONSULTATION & QUOTE
Please fill out this form and we will contact you within 24 hours to schedule an appointment.
Aluminum Cover with Skylights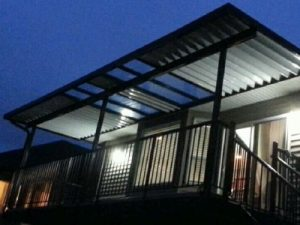 Get the benefits of strength and durability of aluminum but also refreshing sunlight through the roof with skylights. A good combination between shade and sunlight if you want a bit of both!
5mm clear, tinted, frosted, double glazed
(better insulation)
Standard 4" double wall I beam
Heavy duty 6" double wall I Beam
Standard 3" x 3" post
Larger post options
Free Online Cost Estimation Now
Answer our 1-minute questionaire and we can provide you with a cost estimation shortly.
Transform Your Space with a Beautiful, Long-lasting Patio Cover
Free Quote and Estimation
Give us a call or fill out the online form below to get a free quote. Our experts will show you options that fit your needs and budget.
One of our experts will visit your home or the site to fully assess the project.
You can also visit our showroom to see pick the actual patio cover material looks like.

Designed to Fit Your Needs
Based on your needs and our assessment of the project, we will provide you a design, budget and timeline that fits what you are looking for.

Our Professional Installers complete the job
Our team will go on-site and install the patio cover. We experienced team is fast, efficient and professional.

Our Portfolio of Happy Clients
We make sure the job is done on-time and of high quality. Below is a portfolio of some of the patio covers we did for other homeowners in Greater Vancouver.
Like Our Work? Chat with us!
Please fill out this form and we will contact you within 24 hours to schedule an appointment.
See what other customers say about us:

Barbra French - 6 months ago
We've been dealing with BC Awning and Railing since 2014 (as Paradise Patio Covers on Vancouver Island), and we've always found their products and service to be excellent. If you're looking for a company with quality products, integrity and good business practices, give them a call.
Russ Loader - 9 months ago
I highly recommend B.C. Awning & Railing Inc. The representative was professional and consistent from start to finish. He walked us through design and the installation process and addressed all of our concerns regarding potential snow load. The representative and his install team showed up when they said and completed the install efficiently and professionally. We are very happy with our new 3 season extension to our home! Five Stars
Jane Pennington - 10 months
We are so happy with the patio cover provided and installed by the BC Awning Team. The representative was quick to respond to our request for a quotation and he was both thorough and professional. The price was good and the delivery and installation time was quicker than anticipated. The cover looks just like Pat's initial drawing and we could not be happier. The cover has turned our patio into a 3 season extension of our home. Thank you for a job well done!
BC Awning and railing are amazing!!!! If you are looking for a company to install an awning stop looking, they came out in less than 48 hour, gave a quote, and installed in 11 days! The awning is beautiful and the cost was less than 1/2 the cost of anyone else that gave us a quote and the finished produce looks incredible.
Ryan Robertson - a year ago
I highly recommend this company. From the get go the communication was consistent and accurate and the prices are fair. I had a large 12'x24′ glass awning installed last week and we couldn't be happier. The representative is very competent and the father/son install team was very impressive. The quality of product and install is great
Overall, super happy dealing with the company right from the first phone call to the office and then with the measuring guy. The representative came out the next day to measure and gave us a quote the same evening. Two weeks later awnings were put up, just in time for the big rain on the weekend.