Sunroom Design and Installation. 100% Satisfaction
Bring the outdoors inside with a sunroom from BC Awning & Railing. Immerse yourself in the beauty of nature year-round, all while lounging in the comfort of your own home. Our team of experts has extensive experience in designing and building sunrooms for homes in the Lower Mainland.
Choose BC Awning & Railing for hassle-free and time-saving sunroom solutions. With a 10-year product warranty and 3-year installation warranty, you can rest assured in the quality of our work. Benefit from our 20 years of experience and diverse options, including various materials and colors. We serve the entire Greater Vancouver Area, Fraser Valley, and ship to the Vancouver Islands.
Create a personalized outdoor retreat with a sunroom from BC Awning & Railing. Whether you're looking for a full home addition or a smaller, encased space, we offer flexible design options and a range of features to make your sunroom unique. Choose from a variety of sizes, styles, and materials to create the perfect environment for your needs
FREE CONSULTATION & QUOTE
Please fill out this form and we will contact you within 24 hours to schedule an appointment.
4 Types of Sunrooms to Fit Your Needs:
Transform your home into an all-season oasis with a vinyl sunroom from BC Awning & Railing. Designed for year-round comfort, our vinyl sunrooms feature insulated glass panels and low-E glass filled with Argon gas to keep temperatures regulated. Choose from a range of colors to match your home's aesthetic and enjoy a seamless exterior with smooth vinyl construction free of visible fasteners and seams. Experience the beauty of nature indoors, no matter the weather, with a vinyl sunroom from BC Awning & Railing.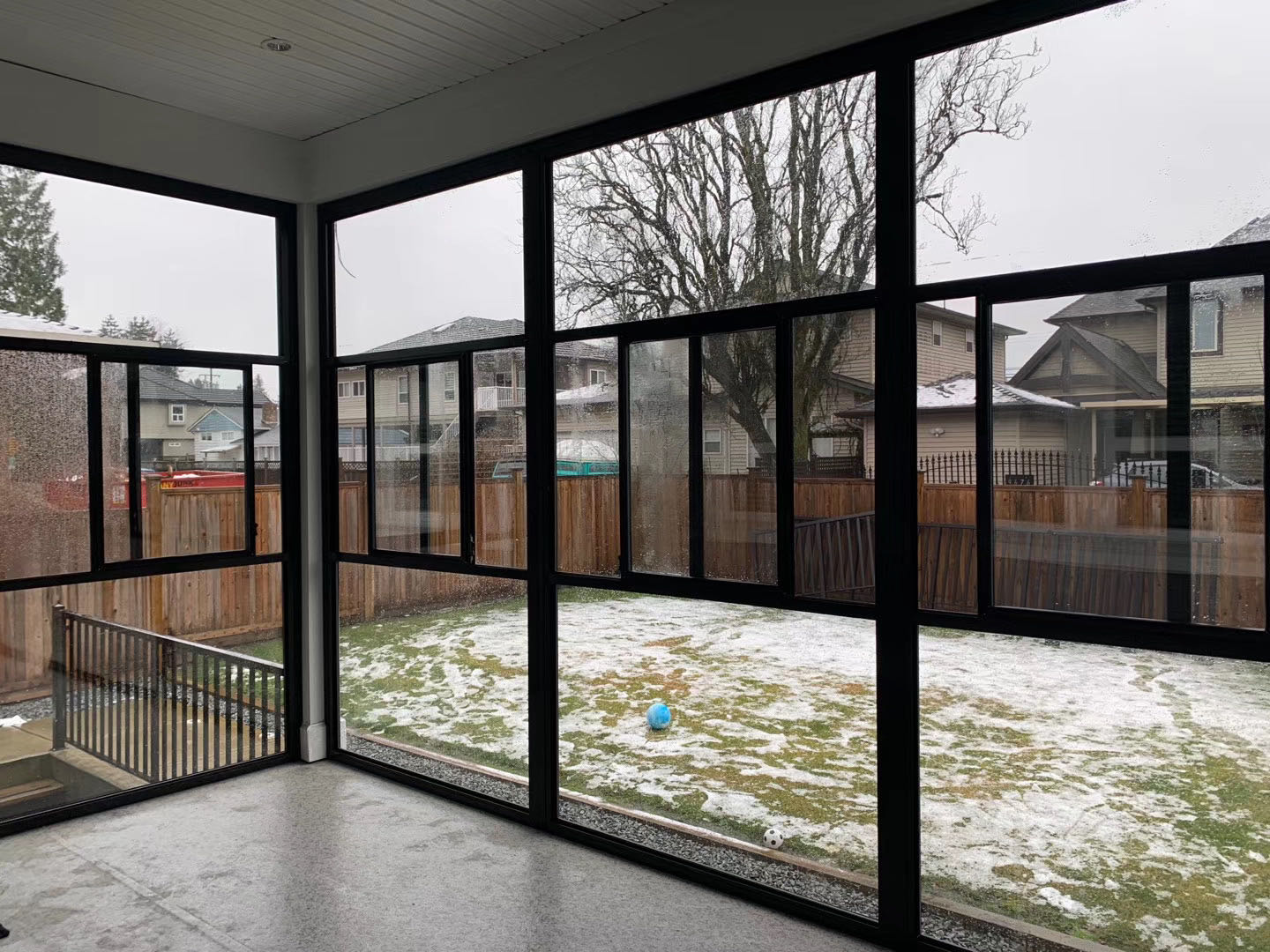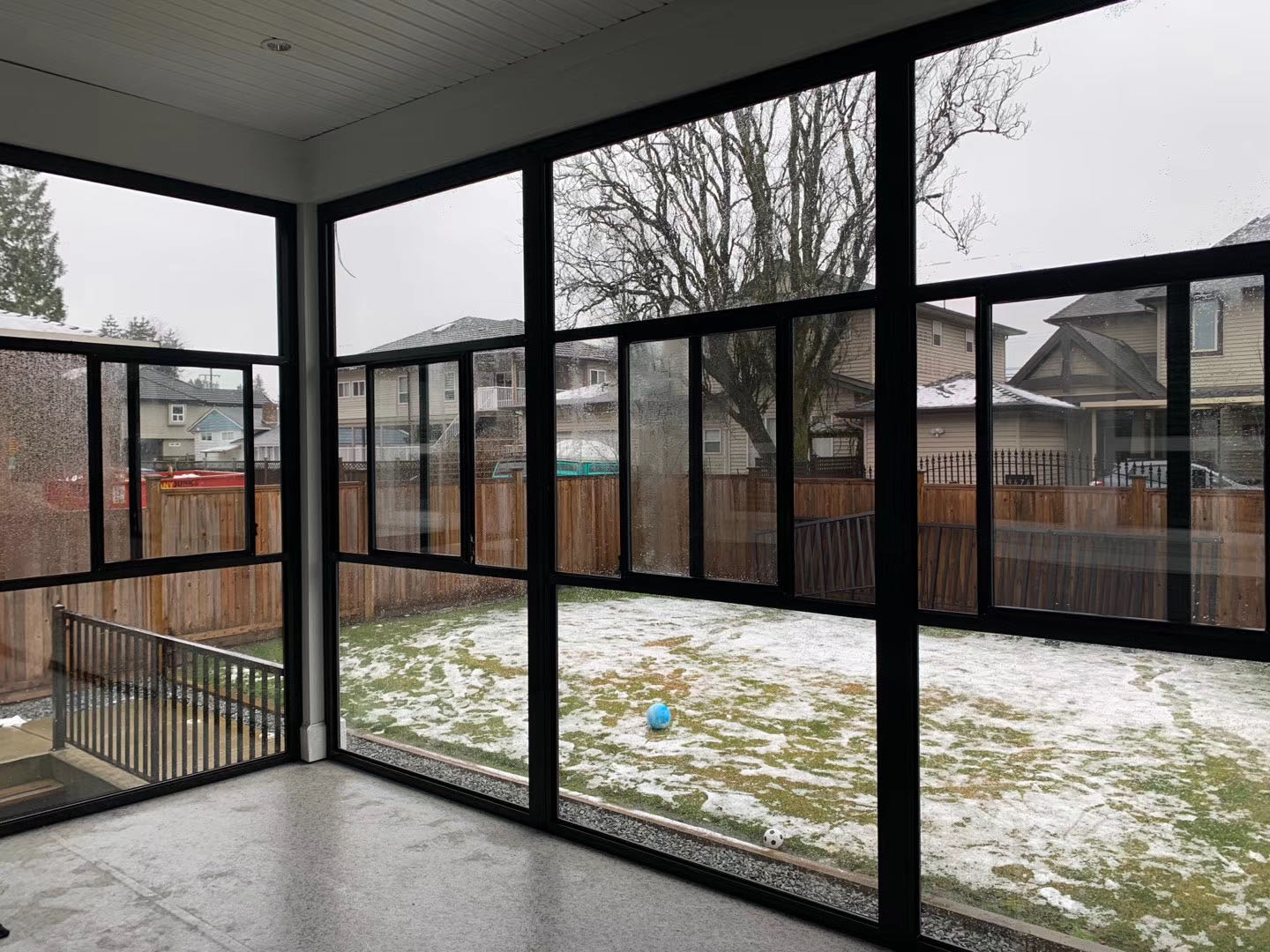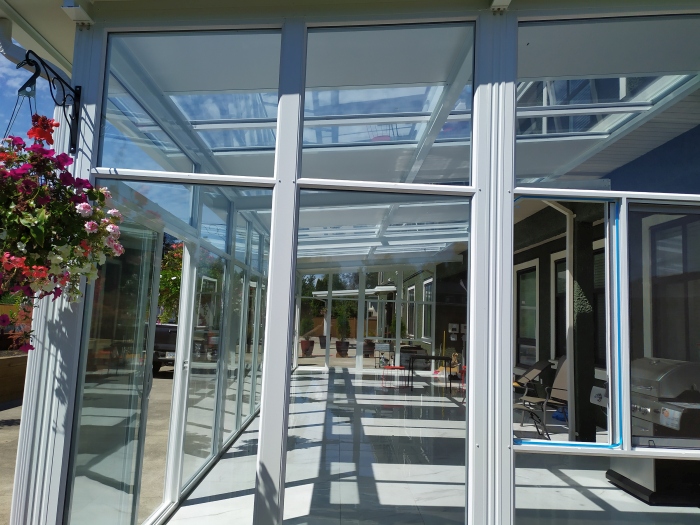 Extend your outdoor living season with an aluminum sunroom from BC Awning & Railing. Built to withstand the elements, our sunrooms feature interlocking frames for added strength and durability. The permanent baked enamel finish ensures low maintenance and easy cleaning, while insulated windows can be added for added comfort. Choose from a range of colors to perfectly complement your home's exterior, and enjoy a customizable, high-quality sunroom solution from BC Awning & Railing.
Elevate your outdoor living experience with BC Awning & Railing's range of all-glass sunroom choices. These designs offer a seamless view and effortless upkeep. Our sunrooms are excellently insulated, ensuring year-round comfort. Embrace the joys of summer while lounging in your beloved chair, thanks to BC Awning & Railing's personalized all-glass sunroom solutions.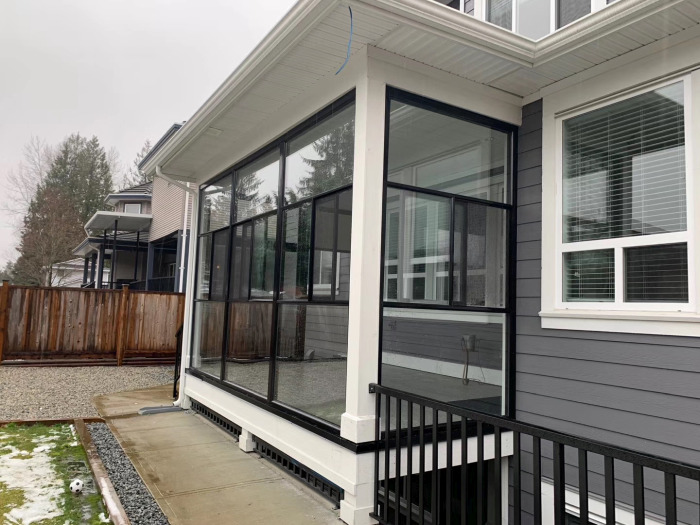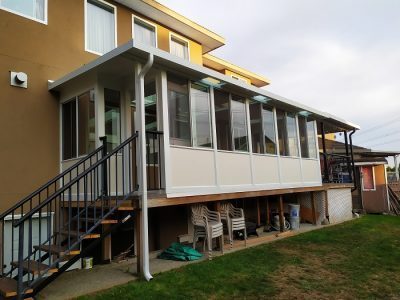 4. Half Glass, Half Insulation Wall
Elevate your outdoor living experience with a half glass, half insulated sunroom from BC Awning and Railing. This innovative design combines the beauty of nature with the comfort of indoor living. With a partially insulated wall, you can extend your outdoor season while ensuring a controlled temperature. The glass panels offer breathtaking views, making it feel like you're surrounded by nature even on chilly days. Create a unique and inviting space that seamlessly blends indoor and outdoor living.
Our Portfolio of Happy Clients: Sunrooms
We make sure your sunroom is built with durable materials and proper care. Below is a portfolio of some of the sunrooms we did for other homeowners in Greater Vancouver.
Free Online Cost Estimation Now
Answer our 1-minute questionaire and we can provide you with a cost estimation shortly.
See what other customers say about us:

Barbra French - 6 months ago
We've been dealing with BC Awning and Railing since 2014 (as Paradise Patio Covers on Vancouver Island), and we've always found their products and service to be excellent. If you're looking for a company with quality products, integrity and good business practices, give them a call.
Russ Loader - 9 months ago
I highly recommend B.C. Awning & Railing Inc. The representative was professional and consistent from start to finish. He walked us through design and the installation process and addressed all of our concerns regarding potential snow load. The representative and his install team showed up when they said and completed the install efficiently and professionally. We are very happy with our new 3 season extension to our home! Five Stars
Jane Pennington - 10 months
We are so happy with the patio cover provided and installed by the BC Awning Team. The representative was quick to respond to our request for a quotation and he was both thorough and professional. The price was good and the delivery and installation time was quicker than anticipated. The cover looks just like Pat's initial drawing and we could not be happier. The cover has turned our patio into a 3 season extension of our home. Thank you for a job well done!
BC Awning and railing are amazing!!!! If you are looking for a company to install an awning stop looking, they came out in less than 48 hour, gave a quote, and installed in 11 days! The awning is beautiful and the cost was less than 1/2 the cost of anyone else that gave us a quote and the finished produce looks incredible.
Ryan Robertson - a year ago
I highly recommend this company. From the get go the communication was consistent and accurate and the prices are fair. I had a large 12'x24′ glass awning installed last week and we couldn't be happier. The representative is very competent and the father/son install team was very impressive. The quality of product and install is great
Overall, super happy dealing with the company right from the first phone call to the office and then with the measuring guy. The representative came out the next day to measure and gave us a quote the same evening. Two weeks later awnings were put up, just in time for the big rain on the weekend.
Transform Your Space with a Beautiful, Long-lasting Sunroom
Free Quote and Estimation
Give us a call or fill out the online form below to get a free quote. Our experts will show you options that fit your needs and budget.
One of our experts will visit your home or the site to fully assess the project.
You can also visit our showroom to see pick the actual sunroom material looks like.

Designed to Fit Your Needs
Based on your needs and our assessment of the project, we will provide you a design, budget and timeline that fits what you are looking for.

Our Professional Installers complete the job
Our team will go on-site and install the patio cover. We experienced team is fast, efficient and professional.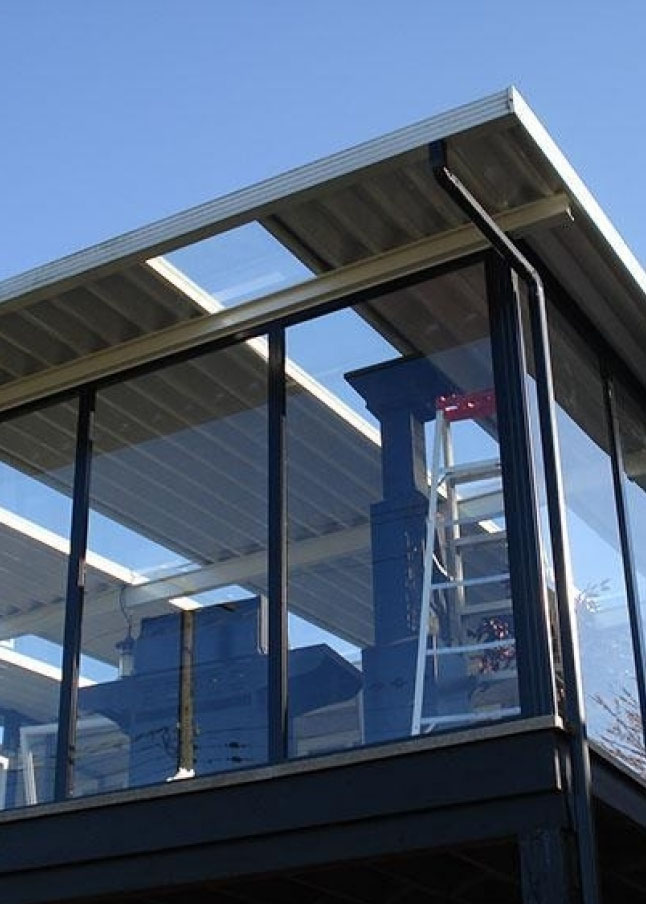 Like Our Work? Chat with us!
Please fill out this form and we will contact you within 24 hours to schedule an appointment.