Sunroom Design and Installation. 100% Satisfaction
If you've been longing to be surrounded by the beauty of nature through all four seasons of the year, the addition of a sunroom can make this dream a reality for you. Sunrooms offer you the opportunity to enjoy the visibility of being in the great outdoors without having to leave the comfort of your easy chair. At BC Awning & Railing, we are a team of experts who have built many sunrooms for homes in the Lower Mainland.
Zero hassle and save time
Quality guarantee: 10-year product warranty, 3-year installation warranty
20 years of Experience
Many options: different material and color options
We service entire greater Vancouver area: (Vancouver, West & North Vancouver, Burnaby, Richmond, New Westminster, Surrey, Whiterock, Delta, Coquitlam, Port Coquitlam, Langley, Maple Ridge, Port Moody etc.), Fraser Valley Area (Abbotsford, Chilliwack, Mission and Squamish etc . ), and ship to the Vancouver Islands.
Sunrooms can be as large scale as a full addition to your home or can be built on existing concrete slabs to encase the space. We offer many different features and designs for you to choose from, allowing you to customize the look of your sunroom as well as each feature.
FREE CONSULTATION & QUOTE
Please fill out this form and we will contact you within 24 hours to schedule an appointment.
4 Types of Sunrooms to Fit Your Needs:
A vinyl sunroom from BC Awning and Railing provides you with the opportunity to enjoy the beauty of the great outdoors through all four seasons of the year. Sunrooms made of vinyl construction are specifically formulated for year-round use through the implementation of insulated glass panels to maintain comfortable temperatures. Available in several different colours to complement your home, our vinyl sunrooms contain low-E insulated glass that is filled with Argon gas to help prevent heat loss. To maintain an attractive appearance and a waterproof exterior, the vinyl installed on the outside of the sunroom is smooth and free from easily identified fasteners and unsightly seams.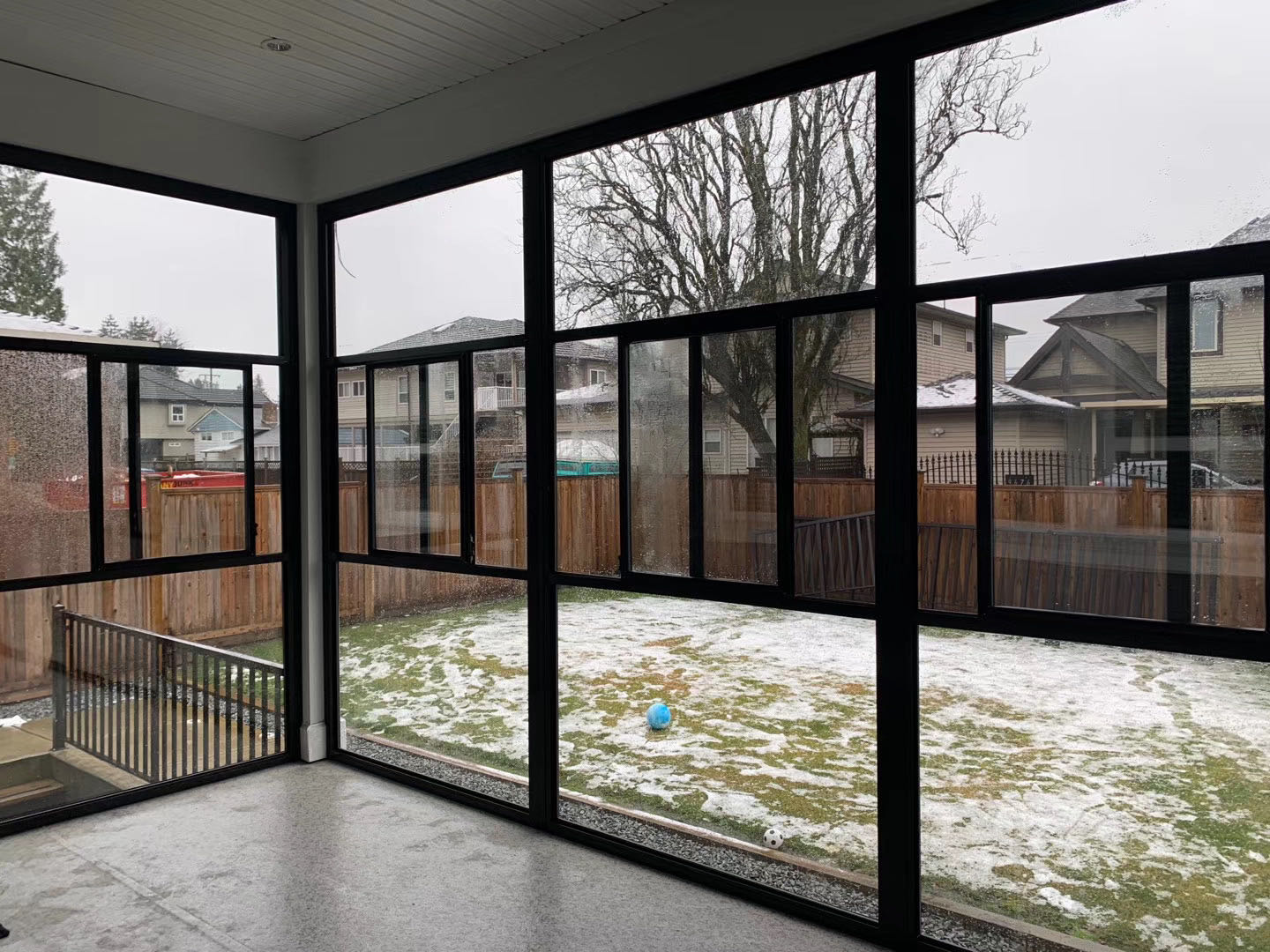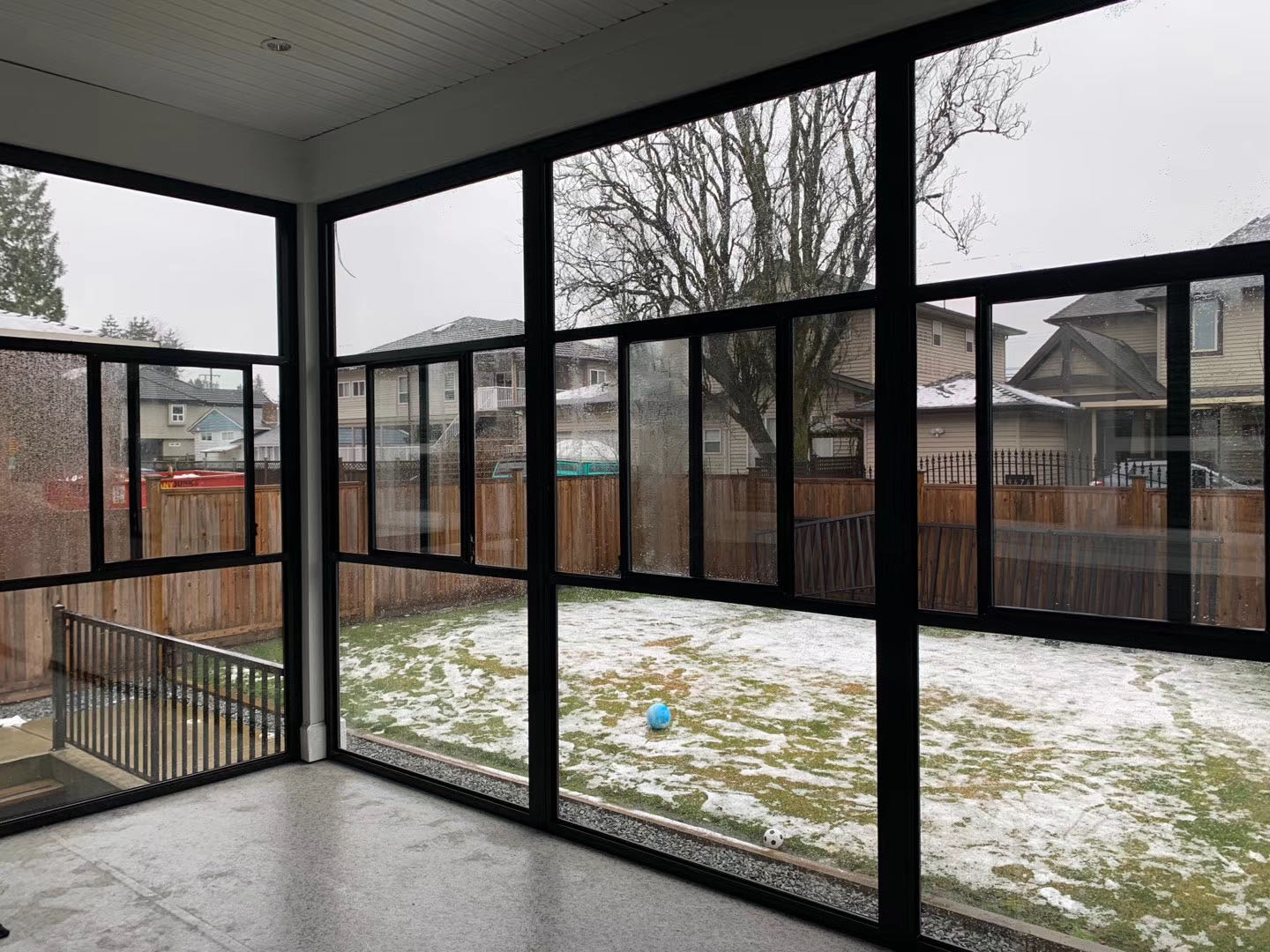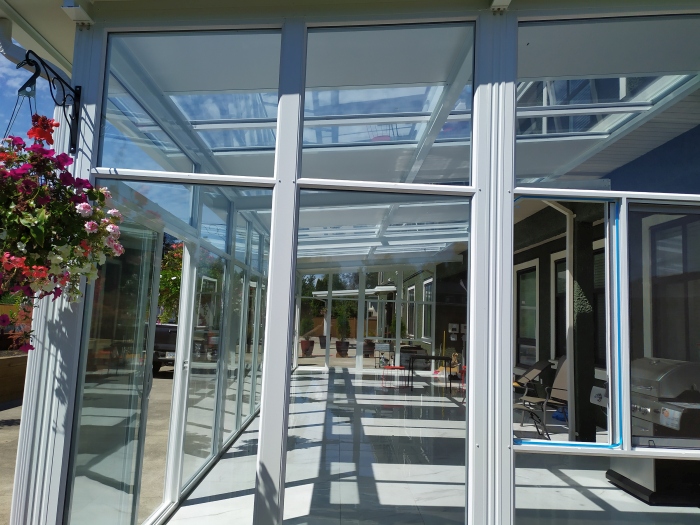 An aluminum sunroom from BC Awning and Railing allows you to enjoy a longer season in the great outdoors. Our aluminum sunrooms are extremely durable with interlocking frames used to fortify the structural integrity of the piece. Aluminum sunrooms are coated with a baked enamel finish that is permanent, making them both low maintenance and easy to clean. Insulated windows can be installed upon request. Our aluminum sunrooms can be customized in a number of different colours to perfectly match the exterior of your home. 
All glass sunrooms from BC Awning and Railing are available in several different options to provide customized features to enhance your ability to enjoy the great outdoors through all four seasons. Whether you opt for frameless retractable patio glass that stretches from ceiling to floor, sliding patio glass, or frameless refractable balcony glass, you will find our sunrooms are easy to clean and well-insulated to keep you cool in the summer and warm in the winter. All glass sunrooms provide an unobstructed view, encouraging the summertime feeling of being outside even while seated in the comfort of your favourite easy chair by the fire.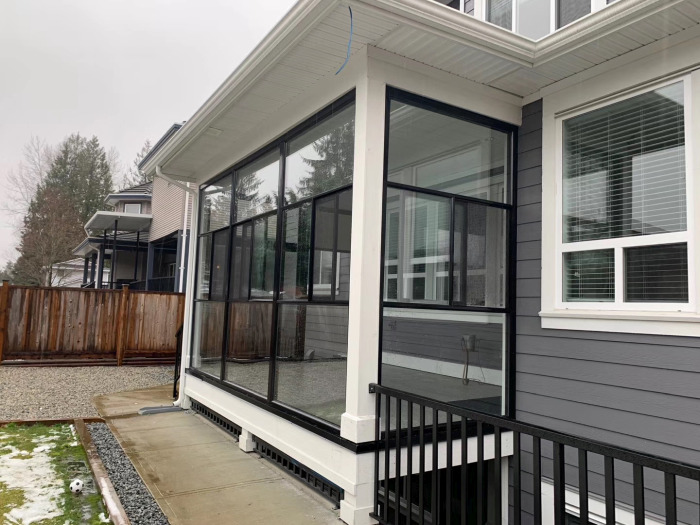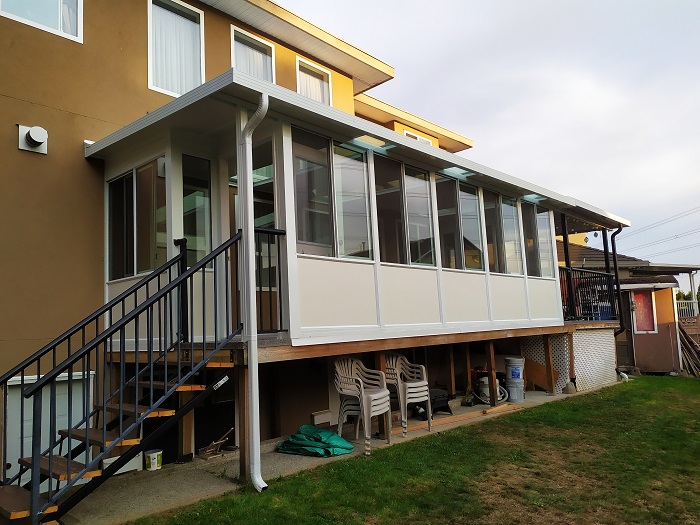 4. Half Glass, Half Insulation Wall
For an entirely unique look, consider adding a sunroom to your home that is comprised of half glass and half insulation wall. Through the addition of a half wall that is fully insulated, you extend your ability to enjoy the beauty of the great outdoors through easily controlled indoor temperature conditions. The glass portion of the room provides the million dollar view that makes you feel like you are outside surrounded by the splendour of nature even when the thermometer says it's too cold to be outdoors. 
Our Portfolio of Happy Clients: Sunrooms
We make sure your sunroom is built with durable materials and proper care. Below is a portfolio of some of the sunrooms we did for other homeowners in Greater Vancouver.
Free Online Cost Estimation Now
Answer our 1-minute questionaire and we can provide you with a cost estimation shortly.
See what other customers say about us:

We had an awning constructed recently, and were impressed by the firm's attention to detail and the ability of their staff to communicate ideas. We were shown samples of the construction materials, were taken through the design choices, and on the day of construction the structure was complete within 4 hours.
James Garry
After getting three quotes from three companies they came up with the best design and price for me. Installation was done one week later on time and exceeding my expectations. Service was second to none and I highly recommend them. Thank you for giving such great service and products.
Richard Ryant
Azuro uses their products and services for a number of our outdoor projects. Can definitely recommend both!
Azuro Concepts
Have 2 awnings built & installed by these guys. Fast & efficient service & installation. Highly recommend.
Patricia Trotter
I called and had a call back within a few days. Great people that did fantastic work at a fair price.  Be patient, as english is not there forst language, but there semse of humor make up for any confusions. We are extremely happy with the work they did and the service we got!
Mark Peterse
Awesome quality and friendly service!
Tong Yue
Transform Your Space with a Beautiful, Long-lasting Sunroom
Free Quote and Estimation
Give us a call or fill out the online form below to get a free quote. Our experts will show you options that fit your needs and budget.
One of our experts will visit your home or the site to fully assess the project.
You can also visit our showroom to see pick the actual sunroom material looks like.

Designed to Fit Your Needs
Based on your needs and our assessment of the project, we will provide you a design, budget and timeline that fits what you are looking for.

Our Professional Installers complete the job
Our team will go on-site and install the patio cover. We experienced team is fast, efficient and professional.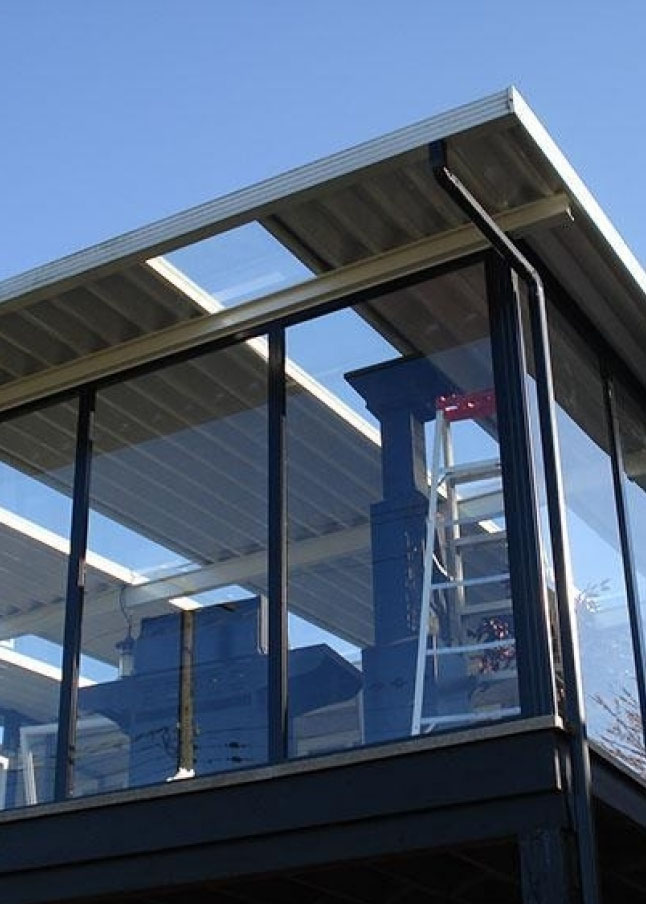 Like Our Work? Chat with us!
Please fill out this form and we will contact you within 24 hours to schedule an appointment.