Richmond's BC Awning and Railing has over 20 years of experience designing and building stylish patio covers to help the city's residents make the most of the area's spring, summer, and fall seasons.
Though Richmond is a city that is marked by short, pleasant summers and lengthy damp and chilly winters, the amount of time you can spend outdoors can be increased simply with the addition of a practical and attractive patio cover from BC Awning and Railing. 
Whether your vision includes aluminum, glass, or a combination of the two, the team of professional designers at BC Awning and Railing can craft and install the patio cover that uniquely meets your every need. We remain current on the latest design principles and work with only the best quality of materials to ensure each patio cover we install exceeds even the highest standards for safety, durability, and functionality. 
With BC Awning and Railing on the job, you can rest assured that the patio cover for your Richmond home's patio will help increase your property's attractiveness and value. Our custom-designed patio covers taken your house to the next level of style and comfort. 
Among the services we offer Richmond homeowners include: 
Professional technicians with the expertise to get the job done well

Convenient installation with no hassles

A creative design team

Top quality materials and craftmanship

Services, products, and installation backed by industry-leading warranties 

20 years of experience

Excellent client recommendations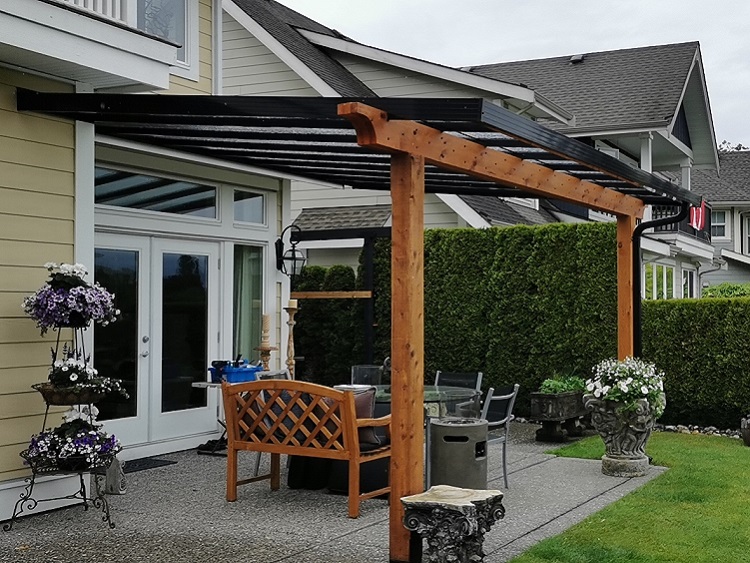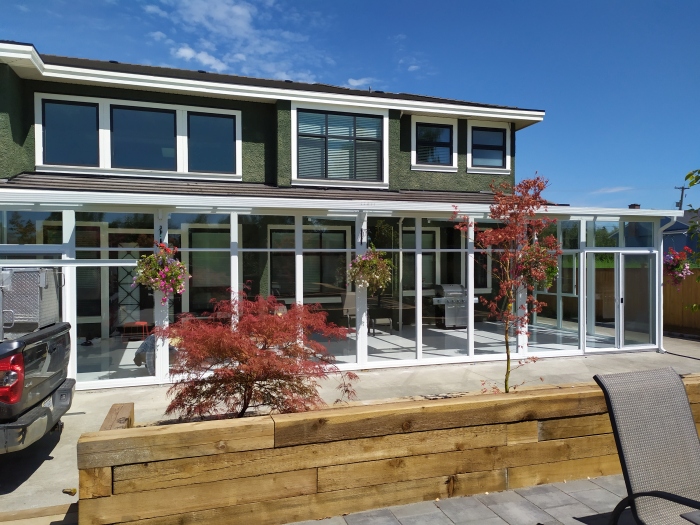 Why Patio Covers in Richmond?
A modern city nestled on Lulu Island, Richmond is the fourth largest metropolitan center found in the province of British Columbia. Though Richmond enjoys 30 percent less rain than its sister city Vancouver, the area is far more susceptible to fog and frost, both weather conditions which restrict the amount of time you can spend outdoors enjoying your patio. 
Mid-June through late-August are typically the nicest times for outdoor activities in Richmond. But making the decision to add a patio cover from BC Awning and Railing to your Richmond home can change all of that for you by allowing you the luxury of extending that season to take advantage of other months of the year that are typically marked by rain, fog, frost, and other inclement weather conditions. 
Even Richmond's normal 50 days of rain is too much time to be stuck indoors when the solution is as simple as a custom-designed and built patio cover from BC Awning and Railing. 
Our patio covers provide you with the opportunity to spend more time enjoying the beauty of nature even when the weather conditions force your neighbours to stay indoors. We employ a team of design professionals with over 20 years of experience, equipping them with the necessary skills to provide you with a patio cover to enhance the creativity, functionality, and style of your Richmond home. 
Tired of being cooped up indoors due to rain, fog, or frost? Let BC Awning and Railing design the patio cover solution to help you maximize the warm weather months on your Richmond home's patio. Contact us now at 604-521-2688 or [email protected] to get started with your unique patio cover design.
Like Our Work? Chat with us!
Please fill out the form and we will contact you within 24 hours to schedule an appointment.