BC Awning and Railing, a patio cover company serving the city of Delta and the surrounding area, offers you the opportunity to enjoy more time spent outdoors with our custom-designed and manufactured patio covers.
For over 20 years, we have been assisting Delta residents with achieving the style and functionality they are looking for in a patio cover, allowing them to make the most of Delta's warm weather months. 
A city known for its mild temperatures year-round, Delta's summers are typically only three months long. Delta sees only approximately 19 days of rain per year with the precipitation largely confined to the winter months. However, no one wants to sacrifice even a single day of sunshine if it can be helped. BC Awning and Railing's team of professional designers and installation experts take great pride in helping our Delta customers extend their time spent outdoors through the addition of one of our unique and attractive patio covers. 
We work with a variety of different materials and design concepts to help you achieve the ideal outdoor space to suit your needs. 
Among the services we offer our Delta clients are:
Friendly, professional service from our installation experts 

Convenient installation

Design solutions to meet your every need 

Patio covers fabricated from only the highest quality materials

Products and installation backed by industry-leading warranties

Free estimates 

20 years of experience

Client recommendations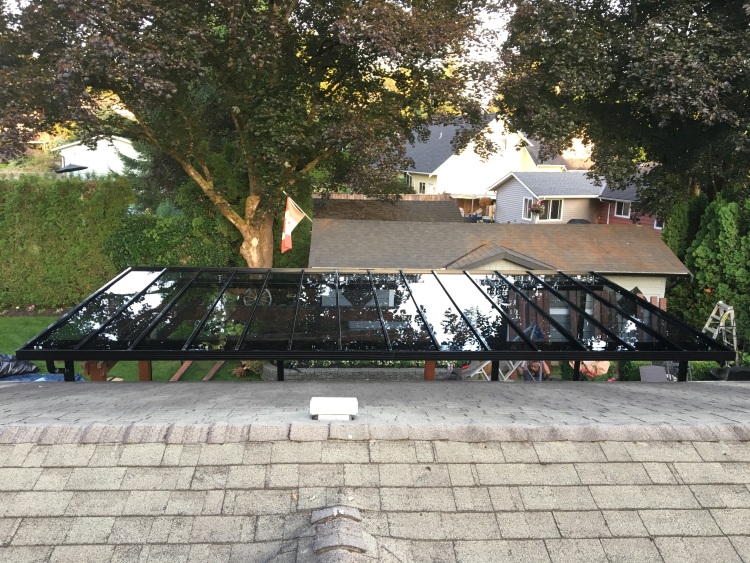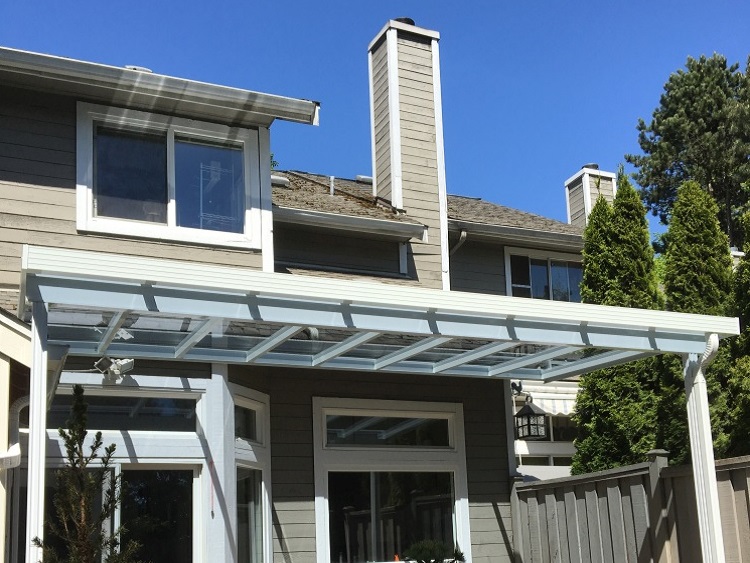 Why Patio Covers in Delta?
Delta, a suburban region that shares a downtown with nearby Surrey, is an area that was once largely covered by swamp. Today, this beautiful region is a prosperous center, providing residents with an attractive home base from which to live, work, and play. With three months of largely dry weather from June through September each year, Delta families enjoy a long spell during which they can truly spend time in their yards enjoying the splendour of the great outdoors. But patio covers allow you to extend summer beyond those three months to derive greater pleasure from the outdoor season. Protected from such elements as wind, rain, sleet, fog, and frost, a patio cover from BC Awning and Railing allows you to maximize opportunities to use your Delta home's patio. 
Best of all, our custom-designed and manufactured patio cover solutions are available in a number of styles, colours, and materials, making any vision you can dream up for your outdoor patio a possibility. 
The BC Awning and Railing team has over 20 years of experience, equipping us with the necessary skills to design and install the ideal patio cover to perfectly complement your Delta home's unique style. We place a high emphasis on using only top-quality materials, ensuring your patio cover is designed to last. 
If you're tired of having to sacrifice time outdoors to poor weather conditions, BC Awning and Railing can help. Contact our office now at 604-521-2688 or [email protected] to learn more about how a patio cover can help you extend your time enjoying the great outdoors.
Like Our Work? Chat with us!
Please fill out the form and we will contact you within 24 hours to schedule an appointment.