What are the Benefits of a Sunroom from BC Awning and Railing?
BC Awning and Railing is a company that has become synonymous with quality. Hiring our team of professionals to design and build your sunroom is the simplest way to guarantee the durability, style, and sophistication you are looking for to complement your Vancouver home.
There are many benefits to homeowners seeking to add a BC Awning and Railing glass sunroom to their house. Not only will a sunroom prove to be an attractive feature, it will also increase the value of the property as a whole. But the benefits extend far beyond greater resale potential and beauty. Glass sunrooms provide families with a larger living space, and they are also energy efficient, meaning cost reductions on expensive power bills. The materials we use to construct our sunrooms are both durable and easy to clean, meaning fewer maintenance expenses and very little need for repair work. 
To gain a feel for what your home would be like with a BC Awning and Railing glass sunroom, visualize your family gathered around the dinner table, enjoying a delicious, home-cooked meal as the sun sets for the day. Or greeting the happy morning sounds of chirping birds in your trees with a hot cup of coffee and pastry in your hand as a prelude to starting your workday on the right foot. Glass sunrooms from BC Awning and Railing allow you to enjoy some truly unforgettable moments that only sunroom owners have the luxury of experiencing. 
With BC Awning and Railing on the job, you have the opportunity to custom design a glass sunroom that perfectly fits your unique vision and needs. Best of all, you can enjoy the benefits of maximized space in your home with the addition of a room that can be enjoyed 365 days each year. 
Here are a few of the benefits a BC Awnings and Railings covered patio and sunroom offer you:
1. Make the most of your outdoor living space with a glass sunroom
BC Awning and Railing glass sunrooms grace the homes of residences throughout the province with a high concentration in the Greater Vancouver region. The beauty of a glass sunroom is the opportunity it offers families to enjoy the great outdoors in all four seasons by throwing open the doors to let the sunshine in during warm weather and keeping them closed when rain, wind, or cold beats down on your home. 
Most typically, glass sunrooms lack a thermal seal; however, the glass walls provide sufficient insulation to allow you to enjoy your new addition on a year-round basis. 
But a glass sunroom provides you with far more than simply a warm, sheltered place in which to enjoy the outdoors regardless of the weather conditions. Since sunrooms are comprised of glass, they permit light to shine directly into the space, giving it a warm and cozy feel.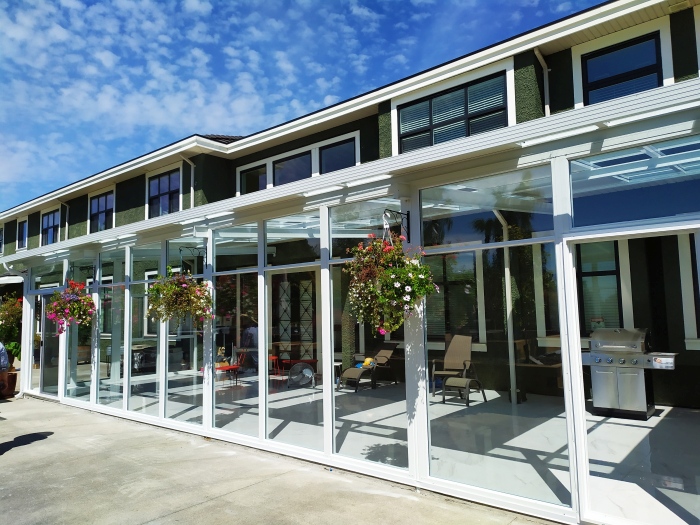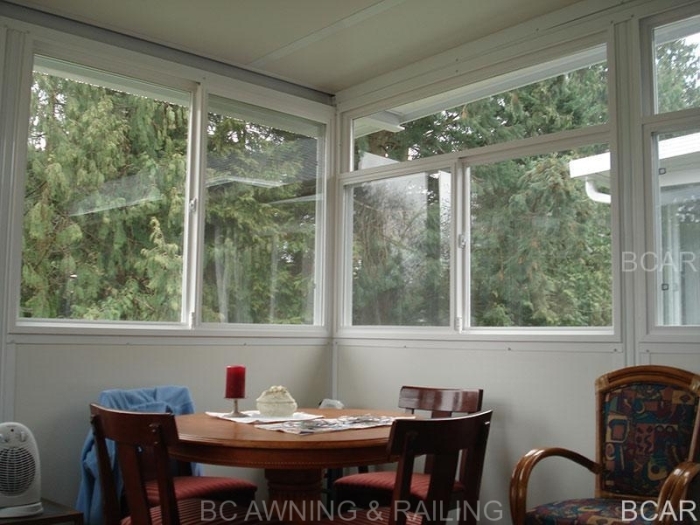 2. Protect your facades and outdoor patio furniture with a glass sunroom
The addition of a glass sunroom provides protection against damage to your outdoor façade and patio furniture. Since each item is carefully housed indoors, furniture remains unaffected by weather conditions and will not fade or become dirty from use or outside debris and dirt. Each of our sunrooms is designed to be easy to both clean and maintain. 
Glass sunrooms from BC Awning and Railing increase the versatility of your home. Whether you wish to use the space as a quiet nook to do some reading or a place to do some entertaining with a warm summer breeze drifting through the room, the sky is the limit when it comes to ways to use your family's new favourite room. 
3. Increase your home's safety with a glass sunroom
Our glass sunrooms are equipped with doors that can be closed and that also lock. This permits you to have an additional space where your children can enjoy the many benefits of the outdoors while still being in an enclosed area that ensures their safety. But sunrooms aren't just limited to use by people. Pets such as dogs and cats also enjoy the opportunity to laze in the sun and enjoy the sights and smells that permeate the room through its glass windows. For pets with a penchant to roam or escape, a glass sunroom keeps them safely contained, providing you with the peace of mind you need. 
In addition to personal living space, a glass sunroom with a locking door is an excellent place to store outdoor equipment such as bikes and balls to keep them protected against theft.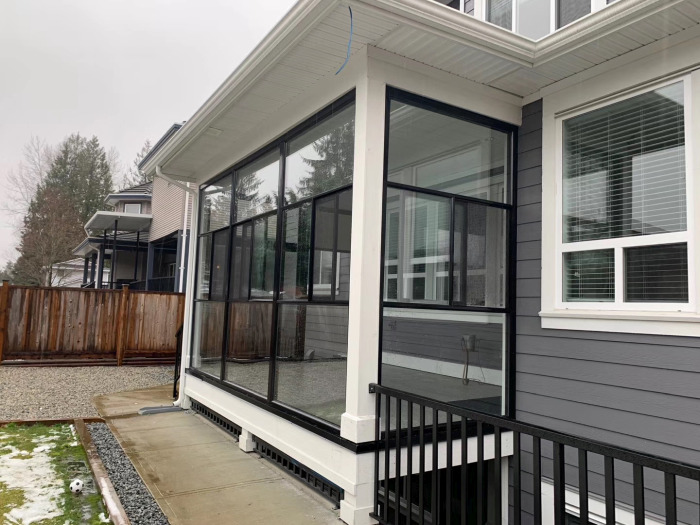 Like Our Work? Chat with us!
Please fill out the form and we will contact you within 24 hours to schedule an appointment.